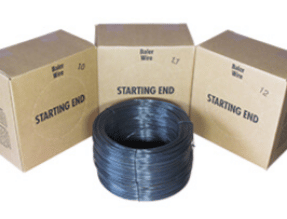 Today we're going to tell you about the unsung hero of the recycling process, truly the thing that ties it all together; baling wire.
While baling wire may be an industry standard in the recycling process today, it's only been a critical component in the waste removal process since the 19th century. Before becoming an industry staple in the recycling sector, it was mainly used to bale hay. Usage was complicated and expensive which limited access for the general public. Then Charles Withington came along with a patent for an automatic baler, and the rest is history.
Now baling wire is a prolific and vital component to what we do. If you're already working with a distributor, we're ready when you are to make the switch. We have access to quality, American made, baling wire, with truly unbelievably fast shipping times. We're talking 2-4 business days as opposed to 2 weeks if you went elsewhere. Efficiency and quality are the names of the game, with convenience as a star player. No longer will you have to sort through X number of independent vendors, since we source everything you need to make working with us seamless and simple.
We offer three versions of either galvanized or black annealed baling wire to suit all needs. In spool form, they are designed for completely different types of balers and are not interchangeable. But wait, what's the difference between galvanized and annealed wire? Let's break it down. Galvanized wire has been submerged in a zinc bath, which makes this wire incredibly durable; it's resistant to rust, scratches, and corrosion. Annealed wire, while less durable, is more flexible and often comes coated in a thin layer of oil to be easily fed into your baler. Now, which do you need?
Single-loop bale ties- Meant to tie off bundles of material after they've been through a baler with loops at the end to tie off by hand. Because this wire is used after the materials have been baled, this is the only time galvanized or annealed wires are interchangeable.
Box wire- formatted to feed into auto balers, this wire comes in one continuous length for easy loading and storage.
Stump wire- also known as spool, coil, or stem wire, is used with high volume horizontal balers.
We've got you covered every step of the way, providing any and all equipment necessary to make sure your facility is saving time in the most efficient and convenient way possible.