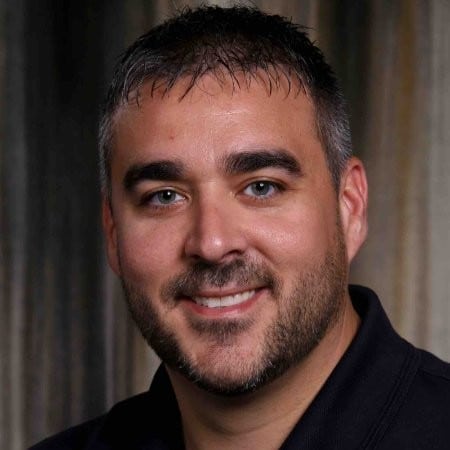 Employee Spotlight: Tom Saylor
Even though he started on April Fool's Day, Tom Saylor's career at Quincy Recycle has been far from a joke. His ascent to General Manager in the heartland of Iowa is one of learning, listening, and never being afraid to try. You could say that his career has mirrored his favorite Core Value – "Listen up, be inquisitive and keep an open mind." We're lucky to have his steadfast leadership to rely on day in and day out. If you see him after hours doing donuts on a skid steer, mind your business.
1. When did you start with Quincy recycle? Was your job title the same as it is now?
I started with Quincy Recycle as the Operations Manager in our New Haven, IN recycling facility on April Fool's day in 2014 and this was my first exposure to the recycling industry. I quickly realized that learning the enormous list of materials we recycle and the ways we add value to our vendors was going to come with a steep learning curve. Having the opportunity to go through the learning process by spending my time on the plant floor with the entire team was enlightening, humbling and all around a lot of fun.
Two years later Bryan Stokes asked if I would be interested in taking over the General Manager role of a paper shredding and secure destruction business he owned in Waterloo, IA. Shortly after, my wife and three children moved with me to Iowa. During my time at Onsite Information Destruction we grew the business significantly and enhanced our product offering by growing deeply into hard drive destruction. After three years of running this business we sold it to a national competitor but I had no interest in working anywhere but Quincy Recycle. So, Bryan and I worked together to figure out a way I could add new value to QRP and our vendors…that's when the equipment division as we know it today was born.
Over the last three years we have built a capability that's virtually unmatched by our competitors. In addition to our vast team of sales people experienced in adding value to a vendor by helping handle their waste stream, we now have a team dedicated to understanding all of the equipment required to handle that material in the most efficient way and help our vendors purchase, utilize and even service that equipment.
My time as the General Manager of our Equipment Division has been challenging, rewarding and extremely fun. I look forward to all the plans we have for growing this division in the future.
2. If you had to pick one, which Core Value is your favorite? Why?
We have been growing very quickly and there's no sign of that slowing down anytime soon. So, the time we spent developing the Core Value program allowed us to identify and communicate the values we believe help ensure every QRP associate clearly understands who we are as a company, how they fit into the company and how we can add value to our vendors and customers.
Every member of our team will find themselves performing job functions that can vary constantly so knowing and understanding all of our Core Values is important so they can be properly applied when the situation arises. That said, the Core Value I seem to encounter most frequently in my role would be, "Listen up, be inquisitive & keep an open mind."
An important part of my role is to learn how a customer's facility operates today, what types/amounts of waste are created and what that customer's goals are for the future. From there, I help them understand what equipment is available that would help them reach those goals. Without listening closely, asking lots of questions and trying to think outside the box I would not be able to add any value to the relationship.
3. What was the most challenging thing to learn in your roles?
The variety of equipment utilized in our industry is enough to make your head spin. The list spans from balers, shredders and air systems to liquid extraction and turbo separator equipment, never mind all the variants found within each equipment type. Learning the details behind, and the best application for, each piece of equipment has been the most challenging thing I've encountered so far. It was immediately clear to me that I needed to commit to being a lifelong learner to ensure I'm able to keep up with the rapid technological changes associated with the equipment industry.
4. What was the most surprising/ fun thing to learn?
When I started at the New Haven facility I had not operated a forklift or skid steer before. So, for the first few weeks I stayed late every night after the plant closed so I could practice in a safe environment…and without embarrassing myself. Once I had the safe operation down I would occasionally jump on a piece of equipment to fill in for someone's break or to help get something done if the team needed help. I was surprised by how much fun it was to run a skid steer.
5. What's your favorite part about working at Quincy Recycle?
Morals, ethics and the openness of working together to try new things with the goal of finding a better way are a constant theme with Quincy Recycle. These values along with the sense of team found throughout the entire organization is definitely what I like most about being a part of Quincy Recycle.
The fact that it's not only okay to try new things, but it's expected that something won't succeed sometimes specifically BECAUSE we are trying new things…and that this is perfectly okay so long as we learned something and became better because we tried it speaks volumes about our culture.
6. What would you like curious, prospective employees to know about Quincy Recycle?
I've worked within most types of organizational structures and I can say from experience, Quincy Recycle is special. When we say we care about the core values, we really mean it. From taking a people first approach to truly expecting everyone to work really hard and try new things as we continually search for a better way, this company really is a group of people who say what we mean and mean what we say.
If someone is willing to work hard, is truly open to learning something new every day, wants to be a part of a great team and is willing to earn the opportunity to reach their absolute potential…this is the place to do it.
7. What are some of your hobbies you like to do outside of work?
As my kids have gotten older I've been forced to recognize that they prefer to spend their leisure time with friends rather than their parents…I suppose that's my nice way of saying they don't want my wife and I to be quite so involved! So, with this new found free time we've recently rediscovered our love for travel. I also enjoy hunting, hiking and riding my motorcycle.
8. Best piece of advice you've ever read or received?
Situations change constantly so I find the usefulness of a piece of advice is depends on what's going on at that moment. The two I probably use most frequently would be:
"You make the day or the day makes you." ~Unknown
Or
"The answer is always 'yes', unless a 'no' is required." ~Moto Moto
9. If you had to pick a song to portray the essence/ culture of Quincy Recycle, what would it be?
Although I don't typically listen to disco, I'll go with Ain't No Stoppin' Us Now by McFadden & Whitehead