Vertical Balers
We have a wide range of baler compactors for sale, lease or rent. Vertical balers compact a variety of waste material for recycling or disposal by producing a dense bale of material. This option is ideal as an introductory model or to handle moderate volumes of materials. Great for managing waste streams of up to 50 tons of material per month. The completed bale is tied using single loop bale ties.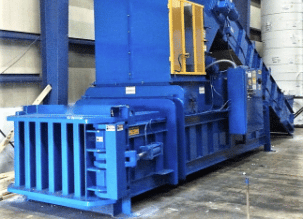 Horizontal Balers
Typically fed by a conveyor system, this piece of equipment compacts a variety of material for efficient transport. Horizontal units can bale a wide variety of material including cardboard, paper, newspaper, printer trim, film, plastic parts and more. A closed-door horizontal baler will produce high-density bales up to 1,200 pounds and effectively manage waste streams between 50-200 tons per month. Completed bales are tied using bale ties.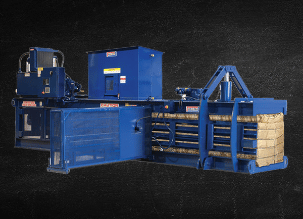 Auto-Tie Balers
Open-End Auto-Tie balers compact fiber products including cardboard and paper materials. Two Ram balers can be used to bale a variety of materials including fiber, plastic, metal and more. Auto-Tie Balers are best for high volume productions and high throughput from 200 – 1,000 tons or more per month. As the name implies, the completed bales are automatically tied using baler wire fed into it so there is no need for manual labor.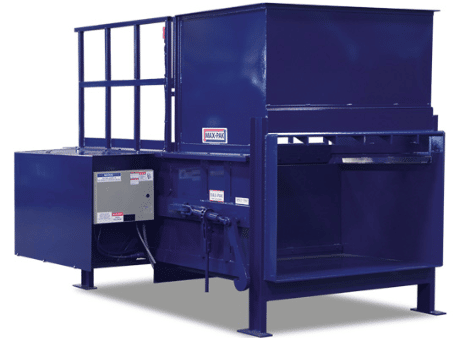 Compactors
We carry several options of compactors for recycling or waste disposal.
Stationary compactors are durable and can handle heavy-duty solid waste streams.
Self-contained compactors are best used for materials that produce liquid after compacting. Unlike stationary compactors, these units are specifically designed to contain excess liquid.
Pre-Crushers are an option that can increase weight-to-volume ratios by crushing material before compacting it into the receiver box.
Auger compactors offer compaction with continuous forward packing efforts.
Turn to Quincy Recycle for high-quality cardboard compactors for sale, as well as units to rent or lease.
Conveyors
We offer several types of conveyors including horizontal or inclined cleated belt, steel belt, rubber belt, slider bed, overhead magnetic, box pre-crusher and stainless-steel conveyors.
Sweed Choppers
We carry Sweed Choppers for your scrap material needs. Scrap choppers reduce a variety of scrap material including doctor blades, baling wire, O.D. tube scarf, cables, PET/plastic strapping, metal and more. Scrap material is fed into the machines through an open mouth and processed material is dropped into a hopper or bin. Scrap choppers are a great choice to reduce cost and increase value.
Shredders
We offer single-shaft shredders, dual shaft shredders and quad-shaft shredders. These industrial plastic shredder machines effectively reduce material for more efficient blending or recycling.