(IN STOCK)
Vertical balers compact a variety of waste material for recycling or disposal by producing a dense bale of material. These machines can be an ideal introduction to baling and are able to handle moderate volumes of materials. Great for managing waste streams of up to 50 tons of material per month. The completed bale is tied using single loop bale ties.
(IN STOCK)
Typically fed by a conveyor system or tote tipper, this piece of equipment compacts a variety of material for efficient transport. Horizontal units can bale a wide variety of material including cardboard, paper, newspaper, printer trim, film, plastic parts and more. A closed-door horizontal baler will produce high-density bales up to 1,450 pounds and effectively manage waste streams between 50-200 tons per month. Completed bales are tied using bale ties.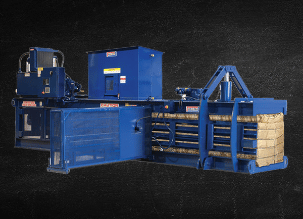 Auto-Tie Balers
Open-End Auto-Tie balers compact fiber products including cardboard and paper materials while Two Ram balers can be used to bale a variety of materials including fiber, plastic, metal and more. Auto-Tie Balers are generally well suited to manage high volume productions and high throughput needs from 200 – 1,000 tons or more per month. The baler automatically ties off completed bales using stump or box baler wire eliminating "completed bale" downtime and reducing labor costs.
Reducing the Volume of Waste
Why is reducing the volume of recyclable waste important? By reducing the volume, you reduce the space it occupies in warehouses and transportation trucks. This provides a cleaner work area while also reducing storage, fuel, and hauling costs. Quincy Recycle actively works with companies to pick up their recycled bales while offering top value for the materials
Industrial balers are ideal for compressing bulk recyclable materials, including cardboard, paper, plastic, and metal. Sorting the recyclables into like-materials before inserting them into the baler will help to maintain the efficiency of your equipment. They are not ideal for compressing liquid waste or organic materials. If you are looking for equipment to compact your organic material, check out our industrial compactors.