Types of Industrial Bale Wire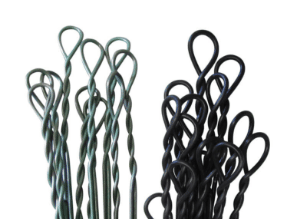 Single-loop bale ties
Single loop bale ties are used for securing bales of recycled material after it has gone through the baler. The wire is twisted at the ends with a loop to secure for transport. Used with vertical or horizontal balers that require hand-tying. Quincy Recycle offers galvanized wire or black annealed wire. We carry 11-14 gauges which has breaking loads starting at 325 lbs. to 750 lbs.
Gauges: 11-14
Length: 10′-22′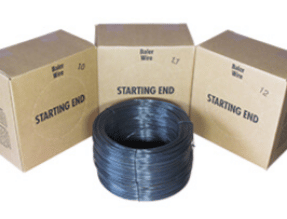 Box wire
Box wire is packaged as one continuous length and feeds into your auto-tie balers. Box wire keeps wire compact and neatly stored. Used for bundling compacted recycle materials such as cardboard, paper, plastic or other refuse. We stock the most commonly used box wire to keep shipping times low. All our box wire is USA made.
Gauges: 10-12
Weight: 50 or 100 pounds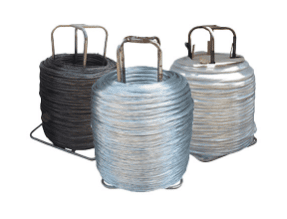 Stump wire
Stump wire, also known as spool wire, coil wire, or stem wire, is used with horizontal balers to bundle recycled materials after they have been baled. We carry galvanized, black annealed or hi-tensile galvanized stump wire.
Q: What type of wire works best for me?
A: Choosing the correct bale wire products for you depends on numerous factors. These include what you're baling, how large the bales will be, and the type of equipment you'll be using. Follow the manufacturer's recommendations or check with our experts before you buy.
Q: What are the most common uses for bale wire?
A: In addition to bundling recyclable materials such as corrugated cardboard, paper, aluminum, or plastic, it's also commonly used to hold together bales of hay in the agricultural sector.
Q: Is there a difference between bale wire and bailing wire?
A: Absolutely none — "bailing" is a common misspelling that suppliers sometimes use in their marketing materials. Whenever you see someone mention "bailing wire," they're talking about bale wire.
Q: Do you carry galvanized or black annealed bale wire?
A: Of course! We carry bale wires in both styles. The material you are baling will determine which style works best for your operations. Ask our team if you have any questions about galvanized or black annealed bale wire recommendations.