Industrial, Cleanup, & High Volume Choppers
Quincy Recycle has partnered with Sweed to sell and distribute some of the most reliable scrap choppers on the market. Whether you already have an established waste management plan or are just starting out, Sweed Scrap Choppers can be a beneficial addition to recycling processes.
These powerful devices help to effectively dispose of and manage banding by reducing the size and volume of scrap material. In fact, one Sweed chopper can reduce waste by a ratio of 20:1, creating a more efficient waste management system. Recycling the scrap material then helps to cut down on disposal costs and create possible revenue streams. Scrap choppers can be a valuable investment for any company looking to streamline their waste management process.
Quincy Recycle offers in-stock Sweed choppers for sale, rent, or lease. Contact us today for more information or a free quote on industrial scrap choppers.
Various models of Sweed Choppers are available from Quincy Recycle.
Scrap choppers work by manually feeding banding into the front of the machine. Banding is then pulled in through the funnel by feedworks. Once it has been chopped, shredded, or grinded, it is dropped into a container below for easy transport.
Material type, volume, and size will determine which machine best fits your requirements. Quincy Recycle offers a large selection of choppers, many with the following customizable features:
Shredder, prechopper, or granulator systems
Ferrous and non-ferrous material processing, such as plastic, wire, cable, steel, titanium, and copper
Small to large scale capacities, ideal for light 'housekeeping' to managing large volumes of scrap banding
Gas or electric powered motors
Safety upgrades, such as timed shut-off, exhaust spillway chutes, and advanced protection systems
Robotic Interface Dynamics
Custom stands
& many more!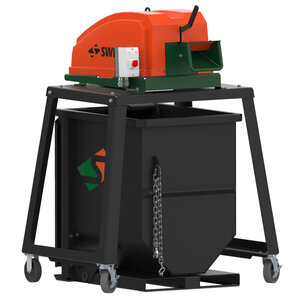 Investing in a Safer Work Environment & Your Bottom Line
Many industrial and warehouse facilities often produce waste and scrap materials. If these materials are not managed carefully, they can accumulate uncontrollably. A scrap chopper effectively processes scrap waste into manageable pieces so that it becomes more convenient to transport and recycle. Doing so leads to a cleaner and safer working environment for employees.
Sweed Scrap Choppers are easier to operate than other industrial recycling equipment and require minimal manpower to process materials. Companies with waste streams, landfill costs, or dumpster fees will benefit from the cost-savings of recycling. Whether that be through chopping or another other process of recycling, industrial recycling can ultimately protect your bottom line.