Strategic Partnership & Global Solutions
At Quincy Recycle, we pride ourselves on developing trusted partnerships that add value to your business. Our large national network affords us high negotiating power and maximized profits by getting the best rate for your material. We are then able to pass these benefits on to our customers to ensure we provide the highest overall value.
Over the years, we have established a national network of recycling partners and reliable international connections. Our connections allow us to provide businesses and manufacturers across the country with industrial recycling and waste management solutions.

Customized Innovative Solutions
Quincy Recycle provides a one-stop solution for all your waste management needs, including recycling plants, commodity trading, and equipment distribution. We know that every business is unique. Our vast selection of resources allows us to provide recycling solutions for a variety of waste streams.
Programs are customized for your exact specifications to quickly and efficiently handle your recyclable material. We can quickly and safely remove waste from your location and take it to the best outlet for recycling. This way, you can get more value back from your materials. We are experienced providers of B2B recycling services and can help make your business more efficient.

Reliable Service
Our customers are our top priority. We strive to provide them with sustainable solutions and outstanding customer service every day. We put an emphasis on providing solutions early so our customers are continuously receiving reliable service as quickly as possible.
We have nearly 50 years of experience in the industrial recycling industry and are committed to providing outstanding service. We believe in creating lasting partnerships and strive to always exceed expectations. Our deep network of industry connections and trusted team of Quincy Recycle employees are here to serve you.

Accurate and Trusted Reporting
Quincy Recycle offers timely and reliable reporting on your materials and movement. We know it's important to understand the impact of your waste stream on the bottom line and on the environment. We transparently share materials, tonnage, and more to make sure you have the information you need to best manage your business.
Have any questions? Our team is available as a direct line of communication to answer any questions you might have about your reports.

Sustainability
By choosing to recycle, you're choosing to use your company's waste and byproduct to its fullest potential. Recycling greatly reduces the amount of waste produced during operations and contributes to the overall sustainability of our planet. Recycling already-processed material waste decreases the amount of energy needed to create new material, resulting in fewer greenhouse emissions and cleaner production.
Throughout our experiences, we have helped numerous customers improve their carbon footprint through a focused effort on waste reduction. Let's work together to reduce pollution and conserve natural resources. We can develop a waste management system that is specifically focused on improving your industrial recycling efforts, saving you time and money.

Maximized Profits
It is likely that a large percent of your production waste is actually recyclable. By choosing to recycle your company's byproduct, you can save money on waste removal and replacement products. At Quincy Recycle, we find innovative, alternative solutions for any business that improve logistics and create value from your scrap material. You can even find ways to recycle your materials and turn them into new products, saving money on raw materials and increasing your profits.
Better yet, our service extends beyond developing unique industrial recycling plans and creating possible revenue streams. Our account management teams will help you offset the cost of production and waste removal by continuing to analyze your waste streams, even when your process or products change.
We take the burden of organizing materials by accepting mixed commodity trailers. This saves you time and effort, making the entire process as simplified as it can be. Our capabilities and facilities mean you won't have to worry about whether or not we can accept whatever it is you need to dispose of from your operations.
You can recycle a mix of commodities including: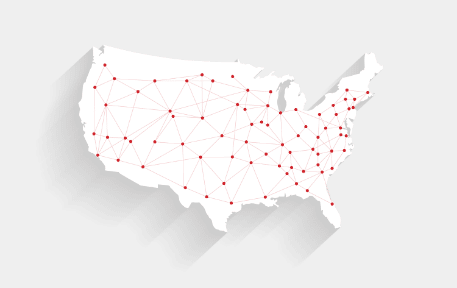 National Network
Our national service network allows us to provide top-notch service across the country.