Litho Plate Recycling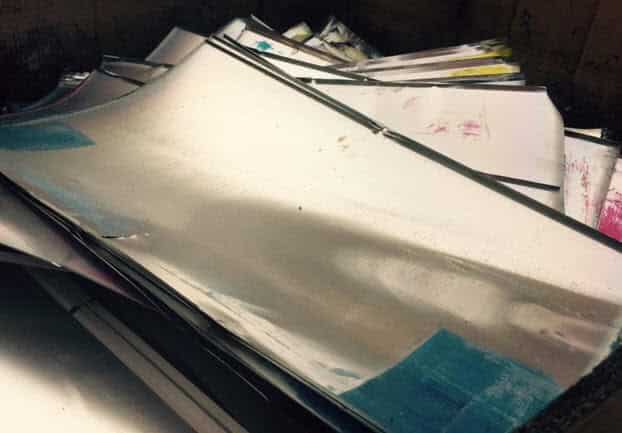 Get more value for your aluminum lithograph (litho) plates when you choose Quincy Recycle. We have partnered with stamping and printing companies across the country to responsibly recycle their aluminum litho sheets. Whether your business produces large or small amounts of recycled aluminum litho, our commitment to efficient and reliable service makes us the superior choice for industrial metal recycling.
We believe your recycling process should be easy and hassle-free. Don't worry about sorting your material; we accept mixed-commodity trailers. Gaylord boxes and fiber drums are also available for purchase to make waste organization easier. At the time of pickup, we'll collect the aluminum litho plates with additional recyclables, including bales and rolls of paper, cardboard, ink buckets, and other ferrous and non-ferrous materials. The materials will then be transported to one of our facilities for safe and secure sorting.
At Quincy Recycle, your waste-stream solutions are convenient, innovative, and tailored specifically to you. Contact us today for a free consultation and quote on aluminum litho plate recycling.
Why Recycle Aluminum Litho Plates
Customers that choose Quincy Recycle have seen significant returns on their recyclable waste. Recycling aluminum litho sheets and other material waste not only reduces landfill costs, but also provides an additional revenue stream. Our partnerships with metal refineries allow us to quickly process aluminum litho plates, providing you with fair market value and competitive rates on the spot.
If you'd like to schedule a time for drop off instead, call one of our eight locations to arrange a time that works for you. We can also schedule a routine pickup for businesses with a high production of recyclable waste. Not a printing or stamping business? That's okay! We work with all types of industrial manufacturers and warehouses to effectively handle their waste management.