Industrial Recycling & Sustainability Solutions
Founded in 1974, Quincy Recycle solves waste stream problems for manufacturers and other industrial suppliers. A relentless focus on solving waste stream problems for manufacturers has fueled our growth. Currently we have seven locations in five Midwestern states.
We recycle and broker paper, plastics, and food waste, and buy and sell gaylord boxes. Our National Accounts division services regional and nationwide multi-location businesses.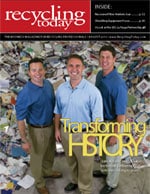 Learn how Quincy Recycle assists manufacturers with their multi-commodity recycling and sustainability efforts in our cover story in Recycling Today magazine.
Our customers value our commitment to diverting their waste from landfills, maximizing the revenue generated by recyclable materials, and meeting their sustainability goals.
Request information online, or call our corporate office at 800-311-6097.
Why Choose Quincy Recycle?
Seven recycling facilities in five states plus nationwide brokerage
Clear and accurate reporting
Net 30 payment terms
Our nationwide network of recycling facilities, industry partnerships, and centralized infrastructure plus a company culture that prizes original thinking and "connecting the dots" means our suppliers gain true value from our services.
Contact us today. Tell us about your waste stream problems. Together your team and ours will work out the most effective solutions to divert your paper and plastic waste from landfills and into your recycling stream. This will minimize costs and often generate new revenues.
Plant Locations, Maps, and Information
Alsip (Chicago), IL
New Haven, IN
Quincy, IL
St. Louis, MO
Marion/Cedar Rapids, IA
West Bend, WI
Indianapolis, IN
Quincy Recycle's sustainability experts customize recycling programs that improve your operations, increase diversion rates, meet regulatory requirements, and enhance your revenue.
Delivering real business value to our suppliers is key. We spend the time necessary to understand your business, your waste needs, and work with your sustainability team to develop innovative solutions to your waste streams.
Bottom Line iMpact

Do you know your potential waste savings and recycling revenue? Waste haulers usually won't tell you — their revenue comes from filling landfills.
Industry studies show that anywhere from 15% to 50% of waste stream can be turned into recycling revenue.
Contact Quincy Recycle and we'll perform an on-site waste audit to determine your potential savings and profits.