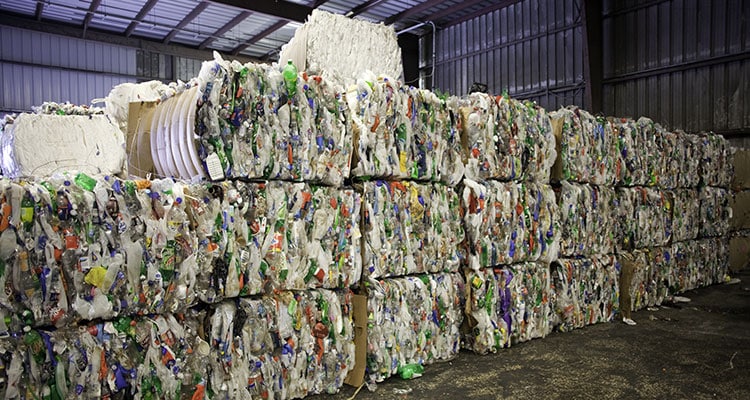 Quincy Recycle handles hundreds of tons of commingled plastic every month. And we could take hundreds more, provided the commingle meets industry specs.
What exactly do we mean by commingled plastic? "Commingle is post-consumer, #1 to #7 plastic containers, baled," says Tim Bliefnick, General Manager of our Quincy, IL facility.
The bales can contain tin and aluminum cans. The plastic, being post-consumer, may have food residue or other matter, within reason.
But what will cause a load to be downgraded?
Too many plastic bags
Paper
Mixed rigid plastics
Why these? Simply put, "these prohibitives are difficult to sort," according to Tim. "The more hands-on we have to be with the load, the less valuable it is."
Plastic bags and other loose film wraps around forklift wheels and particularly augers. When the auger feeding the conveyor gets wrapped by bags, the entire sorting line comes to a stop while workers manually strip the bags from the auger.
Paper tends to cover the electronic eyes in our automated optical sort line. Plastics passing over the optical sensor can't be read when they're covered by loose paper. These then need to be manually sorted further down the line, slowing the entire process.
Additionally, the Institute of Scrap Recycling Industries (ISRI) recently released a survey of North American paper buyers, and found that most consider paper products from mixed loads inferior and reject them. This makes them unsellable for us.
Mixed rigid plastics, like plastic furniture, laundry baskets and other large bulky items, aren't read by the optical sorter. This leads to more manual handling, more lost time, and slower overall processing.
How can municipal and county dual-stream and other waste haulers get the most for their commingled plastic?
Don't contaminate loads with prohibitives
Don't cherry-pick out the more valuable plastics, such as #2 HDPE
Incoming commingle loads are examined as they're unloaded, and if too contaminated, we'll take pictures and send them to our suppliers, and either a) offer to pay a reduced price due to specified quality issues, or b) offer the supplier the opportunity to pick the load up and pay for the freight if they believe they can get higher value elsewhere.
"Keep in mind the commodity price environment," Quincy plant GM Bliefnick reminds suppliers. "Commingle pricing has been affected like everything else in the current commodity pricing environment. Pricing is lower than it was a year ago, but we're still actively sourcing the material and continuing to provide pick-ups and service."
If you collect mixed plastics on an on-going basis, contact us at 800-311-6097 or with the form to the right.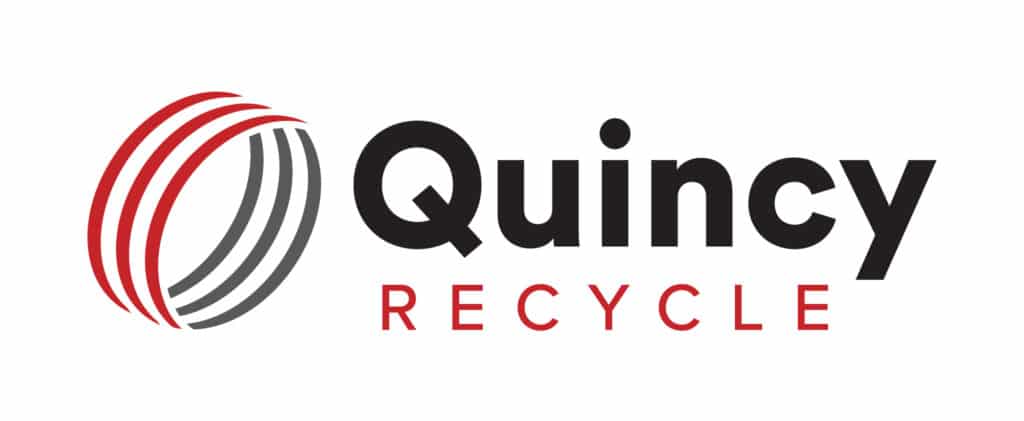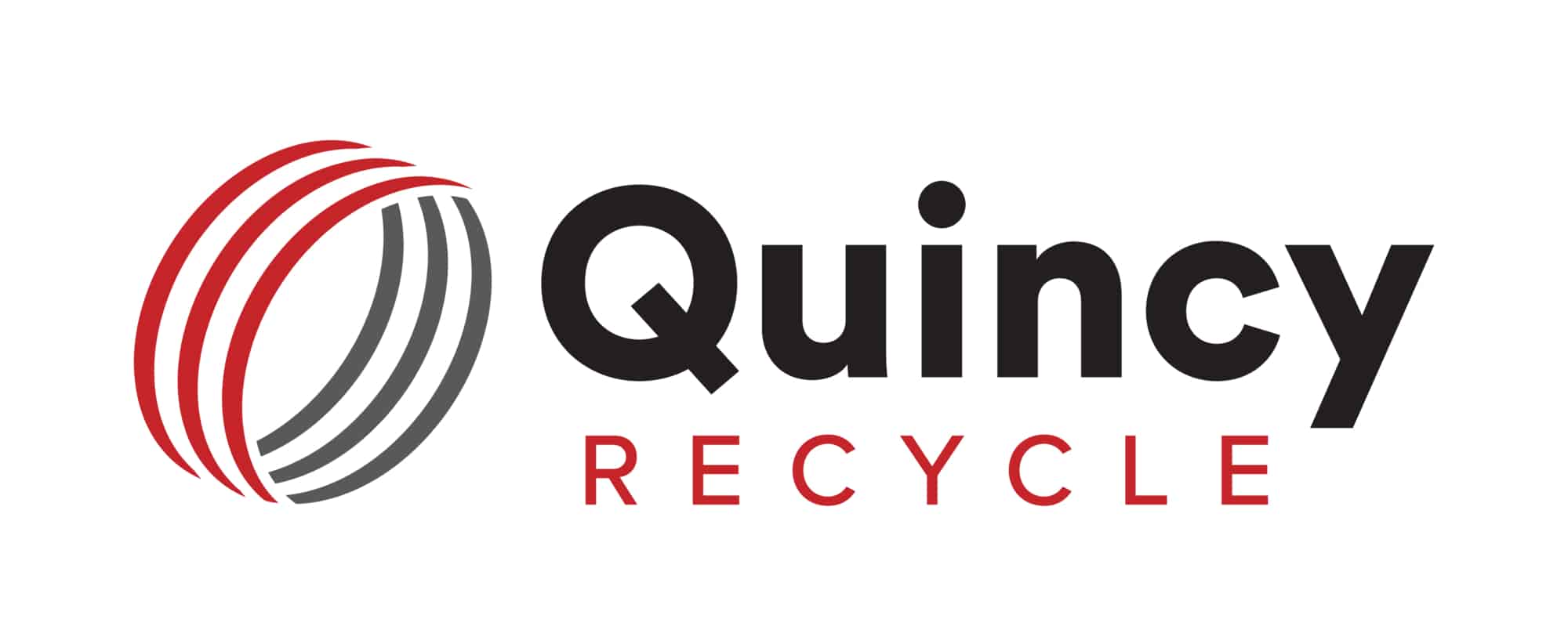 Employee Spotlight: Joe Genenbacher
At Quincy Recycle, we focus on creating an engaging, positive culture where each and every employee is dedicated to the goals and mission that lead to the continued success of our company. Part of our culture includes showing appreciation and recognizing our amazing employees for the impactful work they bring to our organization. Today we're going to spread some positivity by bragging about one of our amazing employees. Meet Joe Genenbacher!
Joe serves as a member of our Corporate team as our Property, Maintenance, and Safety Manager. He has been with the Quincy Recycle team for 10 years and shows true dedication to his job and his team. Joe seeks opportunities and finds innovative solutions that create impact for our bottom line, our organizational culture, and each of our team members that he interacts with on a daily basis.
Dedicated to our core values
Along with creating an engaging, positive culture, we strive to live out our core values. Our core values define who we are and shape the way we do business. They allow everyone to grow and work together towards a common goal. The entire team at Quincy Recycle is extremely committed to our core values, and Joe does an exceptional job of living out our core values every day.
Quincy Recycle's Core Values:
Joe communicates and listens in an attentive, respectful manner to ensure that all of our plants are operating as safely as possible, which fits perfectly with our core value, Alive and Well. Promoting a safe work environment is critical to our business, and it's important that we maintain open communication, seek understanding, and maintain focus on the safety of our team, community, and business. By proactively interacting with the maintenance teams and finding efficient solutions, Joe is helping our plants run smoothly, stay safe, and be more productive.
"Despite what may be going on around him in his day to day activities, Joe has an admirable ability to make the person he is working with the absolute center of his attention and focus. He listens intensely with an eagerness to help, however and wherever he can. The respect and commitment Joe shows to all those he works with, along with the value he adds and the influence he has on them, has made Joe one of the most trusted and well respected leaders on our team." – Phillip Hildebrand, Jr., VP of Finance and Administration
We are immensely grateful for his dedication to helping Quincy Recycle become more successful in the long run, and we are pleased to recognize him for his hard work. Thank you, Joe!
Let's learn some fun things about Joe!
1. What does a typical day at work look like for you? 
I support all the Quincy plants in the departments of Property, Maintenance, and Safety. I purchase most of the equipment used in our plants and consult with outside contractors on improvements or installations that we do. I work closely with the maintenance teams to help keep the plants running with as little down time as possible, traveling to each facility several times a year to understand their needs and wants. One of the things I value is the opportunity to share great ideas from one plant to another, to help all of our plants be productive, efficient, and safe.
2.  What is your favorite part about working at Quincy Recycle? 
I have two favorites. First, I love having the opportunity to interact and touch base with everyone in the company. Second, I love helping teammates succeed at their jobs.
3. How would you describe the culture at Quincy Recycle? 
Quincy Recycle is a fast-paced environment with plenty of opportunities and things to do. What is unique about our team is that each and every teammate helps each other no matter how big or small the problem is.
4. What is the one thing you'd like prospective employees to know about the company? 
If you have a good attitude and are willing to work, you will fit right in and have fun at doing your job!
5. When you are not at work, how would we find you spending your free time? 
I enjoy spending quality time with my wife and eating the wonderful meals she makes. My daughter left her dog with us when she moved out of state, so I now find myself spending too much quality time with the dog as well.  I also spend my free time playing cards and drinking with friends and family, working on projects in the  historic house we live in, grilling, yard work, deer hunting, and tracking down the tools that my son borrows.
6. If you have to pick one food to eat for the rest of your life, what would it be? 
Steak and a cold Bud Light…ok, two steaks and two cold Bud Lights!
7. What is your dream vacation/what is the coolest place you've ever been to? 
Going to Colorado to visit my daughter who lives there (without her dog).
8. Anything else you would like to share? 
My best advice is to do your hard tasks at the beginning of your day or shift.  Someone once told me, "if you have to eat a frog someday, do it right away so you don't have to look at the ugly sucker all day long."
Are you interested in learning more about Quincy Recycle?
Check out our About Us page for company background and to learn about the work we do. Check out our newest facility we are opening in Green Bay, WI, and visit our Careers page for information on how to join our team.
Quincy Recycle is in the business of solving waste stream problems for manufacturers. With in-house logistics, equipment distribution, and food waste processing, we are a one-stop-shop in helping our partners maximize their financial and sustainability goals from coast-to-coast.
Be sure to subscribe to our blog for the latest in industry news, recycling trends, and more employee spotlights!
Making A Career in Waste Management and Recycling at Quincy Recycle
If you read our blog often, then you know how passionate we are about recycling. You also know that we take our culture seriously and we're committed to the goals and mission that lead to the continued success of our company. At Quincy Recycle, we are continuously growing our company, and that comes with a focus of hiring new talent.
We care for our new hires the same way we care for our team, and it's important that they are integrated well into Quincy Recycle with an inclusive onboarding experience. We want their experience to be informative and to build connections with their teammates, so they are ready to jump into their work with eagerness and enthusiasm.
Most importantly, we want each of our new hires to feel like they are a part of the Quincy Recycle family. Read on to learn about our onboarding program, what to expect when you work at Quincy Recycle, and whether you could be the right fit for one of our current openings.
Getting started on the right foot
The special part about our onboarding program is it's a two-day event, where the new employee learns about our culture, our history, and what we do. The purpose of our onboarding program is to immerse a new employee into our business, naturally transition them into their new role, and set a solid foundation for their career at Quincy Recycle.
During their onboarding experience, they will learn about our values, behaviors, departments, roles, and more. We will also dive into safety protocols and training because making sure that our teammates are safe and healthy is a top priority. In fact, it's the reason why Alive & Well is one of our core values. With a treat to lunch and having a coordinator that checks in with the new hire throughout their onboarding experience, our new employees often feel right at home as a part of the Quincy Recycle family within just a matter of days.
Another unique thing about our onboarding program is it provides the new hire with an opportunity to interview current employees to get their perspective on the business. Instead of handing them a stack of sheets that explains everything about Quincy Recycle, the new hire is engaging with current employees to start building a sense of belonging and gaining an understanding of how we operate. Being the new kid can be lonely, but this experience allows our new hires to build connections and feel included in the special thing we have going on here!
What to expect when you work at Quincy Recycle
But the onboarding program doesn't last forever and you're probably wondering what is expected when one works for Quincy Recycle day-to-day.  We sat down with Reagan Costigan, Talent Acquisition & Development, to hear what new employees should expect when they start working with us.
"Each teammate is committed to the mission and the success of our organization. It's expected that you work hard, and you will be rewarded for it. But you are not in this alone because you will have teammates that are here to support you! You get to work autonomously and are encouraged to make decisions on your own and try new things." – Reagan Costigan, Talent Acquisition & Development
Courageous and innovative employees are key to our success. Grounded in common goals and objectives, everyone is dedicated to the growth and success of Quincy Recycle. Hear more of our teammates talk about our core value, "Create Innovative Solutions":
Current Opportunities: What we're looking for
If you haven't heard, we are opening a new facility in Green Bay, WI! What comes with a new facility is the need to hire talented, hardworking people. We're searching for an Operations Manager and Maintenance Technician as these roles are key to the success of our new facility. They are vital to the growth of our facility because we need people who will take the time to understand the business and are able to help with onboarding the rest of the team.
For our Operations Manager position, we're looking for someone who is self-driven, assertive, independent, and willing to take educated risks. To fill in our Maintenance Technician position, we're seeking a person who can get the equipment running smoothly and are able to help design and define the structure of the plant. If one of these positions sounds like you, then check them out at our Careers page!
Other Recycling Jobs to look out for:
We are also currently looking for people to fill the Maintenance Technician position in Indianapolis, IN, and the driver position at our Cedar Rapids, IA location! For our driver position, we are seeking a responsible individual who is excited to support the build-out and expansion of our Collections & Logistics division. These individuals are often the face of Quincy Recycle on the road. Our truck drivers interact with our recycling partners frequently and need to have the ability to deliver a great customer experience with timely and reliable deliveries.
We have a ton of opportunities – from management to direct labor – and we are always growing, so make sure to check out our Careers page for more information!
About Quincy Recycle
Founded in 1974, Quincy Recycle solves waste stream problems for manufacturers and commercial business with its large nationwide network and creative solutions-based culture. With the goal of efficiently diverting waste from landfills and minimizing client costs, Quincy's primary business is providing paper, plastic, and food waste recycling services. The Midwestern based company is also a major supplier and buyer of gaylord boxes and commercial recycling equipment. Check out our About Us page for more information on our company background.
Service Spotlight: Quincy Recycle's Brokerage Division
Here at Quincy Recycle, we place a high importance in fostering long-lasting relationships with our partners. We focus on providing reliable, consistent services for our customers because it's an integral part of building success for their business. Read on to learn how we've applied this approach within our brokerage division.
How can Quincy Recycle's brokerage division help?
We believe in building relationships and being a one-stop-shop for your waste and recycling needs, and we can do that through our brokerage business. We arrange to remove recycling commodities from your facility and get it directly to the businesses who need it – helping you meet your waste reduction and sustainability goals in the process. We stand out from other companies through:
Financial Strength: We have the ability to pay clients fast and make the process much quicker than the industry standard.
Reliable Partnerships: We have an unmatched network of recycling commodity processors that we've established during our 45 years in the industry. We know exactly where to sell your goods to get the best price and service. Our partners are located across the United States, so we can service your locations nationally.
Excellent Communication: Our team is committed to open and honest communication. We are professional, transparent, and collaborative. We make sure you understand the state of the market, pricing, and the day-to-day logistics of getting the scrap removed from your facility.
We serve as the connection for businesses who are in need of waste management services, and the reliable paper mills and plastic processors who can handle that waste. Not only will we remove the commodities from your facility, but often are able to create additional value for your business through the partnerships we establish. Pretty nice, isn't it?
How does the brokerage division work?
A brokerage relationship with Quincy Recycle starts the same as all of our relationships. We first take the time to see, listen, and understand the unique scrap and waste problems of your business. Once we understand your business on a deeper level, we can recommend the best waste management solution.
If a brokerage deal is the best option for your business, our team will start by setting a strategy, finding you the best pricing, and laying the foundation for the relationship. After this is settled, we will work with our Sales Coordinators on the details and execution. You can rely on our team to coordinate shipping and logistics, establishing a recurring frequency and cadence for scrap material pickups.
"People should know that we operate in a diverse industry, with an ever-fluctuating marketplace when it comes to freight. This can present many challenges in our search for the most effective rates while still providing the best service possible." – Shelly Rueda, Sales Coordinator, Quincy Recycle
We never take physical possession of the recycling commodities. It's our job to make sure your excess scrap is picked up timely and handed off to someone who can make the most of these materials – and we take our job seriously. Through our Collections & Logistics service, we can arrange for flexible pickup times that are convenient for your business. Our team works with the most reliable and cost-efficient transportation companies to ensure we are generating the most value for your business.
How our diligent teammates led to the success of our business
Over the years, our brokerage division has expanded as a result of the most trustworthy connections to companies who can help us solve our customers' problems. But our business grew to be successful because of our committed team. Associates like Brian Sixsmith (Sales) and Shelly Rueda (Sales Coordinator) from our Chicago plant continue to create a valuable impact for our brokerage business through communicating to customers in a consistent manner, their expertise in trading, and building a strong customer network. This results in expanding who we work with and sell to.
"Shelly and I work closely as a team and are in constant communication to make sure loads are picked up and service needs are being met. We take the time to learn our vendor's business and are proactive when we see irregularities in their service requests." – Brian Sixsmith, Sales, Quincy Recycle
Their teamwork is essential to our business, and without their extraordinary customer service and leadership, our brokerage business wouldn't be where we are today! We're able to make better relationships with customers, and proven that we're more than just a broker – we're your strategic partner for all of your recycling and waste handling needs.
Long-Lasting Partnerships
At Quincy Recycle, we make it a priority to help each and every client achieve their sustainability and waste reduction goals. It's more than just sales and service. When you partner with Quincy Recycle, you'll have someone you can rely on to navigate changes down the road. Contact our team today to learn more about our brokerage business.
About Quincy Recycle
We solve waste stream problems for manufacturers and other industrial suppliers. With over 45 years in the business, we handle paper, plastic, and metal recycling, and help clients build waste reduction processes within their business.
Don't forget to subscribe to our blog for the latest in industry news, recycling trends, and more! Also, check out our newest facility we are opening in Green Bay, WI, and visit our Careers page for information on how to join our team.